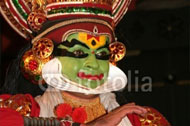 About Kerala:
Kerala, regionally referred to as Keralam, is a state in the south-west region of India on the Malabar coast. It was formed on 1 November 1956 as per the States Reorganisation Act by combining various Malayalam-speaking regions. Spread over 15,005 sq miles
According to Hindu mythology, the land of Kerala was recovered from the sea by Parasurama, an avatar of Vishnu; hence Kerala is also called Parasurama Kshetram ("The Land of Parasurama"). Parasurama was an axe-wielding warrior sage. He threw his axe across the sea, and the water receded as far as it reached.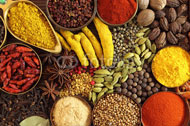 Kerala was a major spice exporter from as early as 3000 BCE, according to Sumerian records. Its fame as the land of spices attracted ancient Babylonians, Assyrians and Egyptians to the Malabar Coast in the 3rd and 2nd millennia BCE. Arabs and Phoenicians were also successful in establishing their prominence in the Kerala trade during this early period.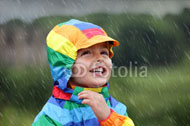 With around 120–140 rainy days per year,Kerala has a wet and maritime tropical climate influenced by the seasonal heavy rains of the southwest summer monsoon and northeast winter monsoon.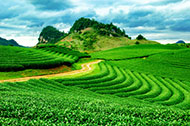 The culture of Kerala is composite and cosmopolitan in nature and it's an integral part of Indian culture.It has been elaborated through centuries of contact with neighboring and overseas cultures.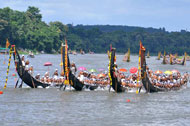 However, the geographical insularity of Kerala from the rest of the country has resulted in development of a distinctive lifestyle, art, architecture, language, literature and social institutions.There are around 10,000 festivals celebrated in the state.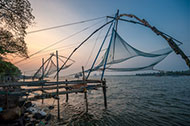 About kerala Cuisine:
One of Kerala's popular attractions is its delicious Kerala cuisine. The unusual cuisine of Kerala brings to the fore the culinary expertise of the people of Kerala. Producing some of the tastiest foods on earth…
Kerala cuisine has a multitude of both vegetarian and non-vegetarian dishes prepared using fish, poultry and meat. Culinary spices have been cultivated in Kerala for millennia and they are characteristic of its cuisine. Rice is a dominant staple that is eaten at all times of day.Breakfast dishes are frequently based on the rice preparations idli, puttu, Idiyappam, or pulse-based vada or tapioca.These may be accompanied by chutney, kadala, payasam, payar pappadam, Appam, chicken curry, beef fry, egg masala and fish curry.Lunch dishes include rice and curry along with rasam, pulisherry and sambar. Sadhya is a vegetarian meal, often served on a banana leaf and followed with a cup of payasam.Popular snacks include banana chips, yam crisps, tapioca chips, unniyappam and kuzhalappam.Sea food specialities include karimeen, prawn, shrimp and other crustacean dishes.Kerala is one of the only places in India where there is no communal distinction between the different food types. People of all religions share the same vegetarian and non vegetarian dishes.
The cuisine of Kerala is characterized by the use of coconut, either chopped or grated and used as garnishing, coconut milk or paste is used to thicken gravies and coconut oil is used for cooking. Though one can't imagine Kerala food without chilies, curry leaf, mustard seed, tamarind and asafetida.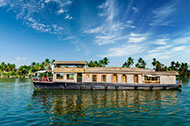 Various locally available vegetables such as tapioca, cassava and yam form part of the cuisine of Kerala. Seasonal fruit such as papaya, jackfruit, mangoes and lime are eaten at different times of year. Bananas and coconut are available year round and are a staple of the Kerala diet. The refreshing juice of the tender coconut is a delightful drink, which you can enjoy on Kerala Tours with Kerala Backwater.